WaterLase dentistry is a gentler and more precise instrument for performing many dental procedures, such as decay removal, cavity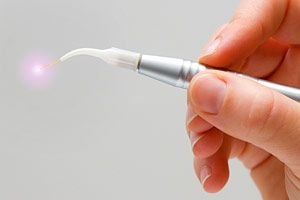 preparation, root canals, tongue- tie, lip tie, frenectomy, gum and bone surgical procedures and many others. The American Academy of Pediatric Dentists has recognized the use of lasers for dental treatments in infants, children and adolescents, as well as people with special needs.

The WaterLase Dental Laser combines water, air and laser energy to perform procedures that are typically performed with a dental drill and scalpel - without the drill, shots and tears.

Many procedures done with the WaterLase Laser do not require anesthesia, which means no shots for some procedures and fewer shots for all procedures. Use of the WaterLase Laser can also reduce trauma and healing time with smaller, more precise incisions and less bleeding. In addition, less anesthesia means there is less chance for the child to experience accidental cheek and lip biting.

WaterLase Laser dentistry is quieter, which means the patient does not become anxious over the shrill sound of the drill. By removing the fear and anxiety of having dental procedures performed, WaterLase Laser dentistry can help foster a healthier life-long mindset about oral care.

Anderson Pediatric Dentistry is proud to offer WaterLase
Laser Dentistry as an option for your child's treatment.
Contact us to discuss your child's treatment options.


New parents sometimes anticipate their baby's first tooth with a mixture of excitement and worry. While reaching a new developmental milestone is always a cause for celebration, this particular one can come with considerable discomfort. However, teething is different for each baby, and need not be painful at all; plus, there are steps you can take to make the process easier for your baby — and yourself.
Teething refers to the process by which primary (baby) teeth emerge through the gums and become visible in the mouth. This usually begins between six and nine months of age, though it may start as early as three months or as late as one year. Usually, the lower front teeth erupt first, followed by the ones directly above. Most children have all 20 of their primary teeth by the age of 3 (View Tooth Eruption Chart).
Recognizing the Signs
Common signs that your baby is teething include:
Irritability
Biting and gnawing
Drooling
Chin rash (caused by excessive salivation)
Swollen gums
Ear rubbing
Decreased appetite
Disrupted sleep patterns
You are most likely to notice any of the above from about four days before the tooth breaks through the gums up until three days after the tooth appears.
A less common teething issue is the formation of an "eruption cyst," a small bubble-like swelling filled with fluid that covers an erupting tooth. Eruption cysts usually do not require treatment as the tooth will simply pop the cyst when it comes through.
While there has been some disagreement as to whether diarrhea, rashes and fever are signs of teething, these are more likely to be associated with an unrelated illness and should be reported to your pediatrician.
How to Help
Teething babies get the most relief from cold and/or pressure on the affected area. This can be applied with:
Chilled teething rings
Cold, wet washcloths
Chilled pacifiers
Massaging baby's gums
Make sure not to actually freeze your baby's teething ring or pacifier because this could burn if left in the mouth for too long. The outmoded "remedy" of rubbing whiskey or other alcohol on the gums is neither effective nor appropriate. Over-the-counter medication may be helpful, but always check the correct dosage with your pediatrician or pharmacist. These, too, should not be rubbed on the gums because they can burn. Numbing agents shouldn't be used on babies under age 2 unless directed by a physician.
Remember, it's best to start dental visits by your child's first birthday to establish this lifelong health-promoting routine (View Age One Dental Visit Video).
Related Articles