WaterLase dentistry is a gentler and more precise instrument for performing many dental procedures, such as decay removal, cavity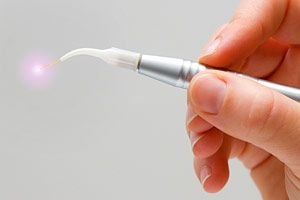 preparation, root canals, tongue- tie, lip tie, frenectomy, gum and bone surgical procedures and many others. The American Academy of Pediatric Dentists has recognized the use of lasers for dental treatments in infants, children and adolescents, as well as people with special needs.

The WaterLase Dental Laser combines water, air and laser energy to perform procedures that are typically performed with a dental drill and scalpel - without the drill, shots and tears.

Many procedures done with the WaterLase Laser do not require anesthesia, which means no shots for some procedures and fewer shots for all procedures. Use of the WaterLase Laser can also reduce trauma and healing time with smaller, more precise incisions and less bleeding. In addition, less anesthesia means there is less chance for the child to experience accidental cheek and lip biting.

WaterLase Laser dentistry is quieter, which means the patient does not become anxious over the shrill sound of the drill. By removing the fear and anxiety of having dental procedures performed, WaterLase Laser dentistry can help foster a healthier life-long mindset about oral care.

Anderson Pediatric Dentistry is proud to offer WaterLase
Laser Dentistry as an option for your child's treatment.
Contact us to discuss your child's treatment options.


You've no doubt heard it said that an ounce of prevention is worth a pound of cure. In dentistry, you might say it's worth two pounds. Maybe even thousands of dollars. That's because dental problems can become exponentially more expensive — and painful — the longer they go unaddressed. Fortunately, modern dentistry has many easy and relatively inexpensive ways to make sure that today's minor annoyance does not turn into tomorrow's major headache.
Preventive dentistry describes all the procedures used to arrest tooth decay and other diseases in the earliest stages. The goal is to keep you as healthy as possible and maintain your natural teeth for life.
Preventive Dentistry Procedures
Preventive dentistry procedures range from the most basic services that have been used successfully for decades, to recent technological innovations. These procedures include:
Cleanings. This is where dental health starts. There's just no substitute for physically removing disease-causing dental plaque and calculus (tartar) from your teeth — especially in hard-to-reach areas near the gum line. That's why regular professional cleanings are so important to your health.
Dental Sealants. These invisible plastic coatings fill the tiny grooves in back teeth so they do not become havens for bacteria. They prevent cavities from forming and the need for fillings later on.
Fluoride. This mineral is readily incorporated into the teeth's mineral structure, thereby making them stronger and more decay-resistant. Fluoride can even reverse tiny cavities that are starting to form. If you are not getting enough from your toothpaste and drinking water, it can be applied directly to your teeth at the dental office.
Laser Decay Diagnosis. Laser light can be used to detect early tooth decay quickly and easily, right in the dental office — before full-blown cavities form.
Mouthguards. Athletic mouthguards are designed to absorb and distribute the forces of impact and minimize traumatic injury to both the hard and soft tissues of the mouth. In fact, an athlete is 60 times more likely to suffer harm to teeth when not wearing a mouthguard. The best ones are custom-made for you by your dentist.
Oral Cancer Screenings. Your best chance of surviving oral cancer — a disease that affects not only lifelong smokers but also young non-smokers — is early detection and treatment. Oral cancer screenings are a routine part of every regular dental exam.
Salivary Diagnostics. This is an exciting new development in the field of preventive dentistry. While it is in its infancy, it is already possible to detect the presence of certain diseases with a salvia test, and the technology is developing rapidly.
X-Rays. For around a century, dentists have been using x-rays to reveal signs of disease not visible to the naked eye. Now, with CAT scans, they have become three-dimensional and are an indispensable tool to diagnose tooth decay, gum disease, bone density, bone volume and tumors.
Your Role in Preventing Dental Disease
There's one more extremely important component of preventive dentistry: you. The procedures mentioned above can only be effective if you come in to the dental office to take advantage of them. Likewise, the importance of maintaining a good oral hygiene routine at home cannot be overstated. Daily effective brushing and flossing will go a long way toward removing the dental plaque responsible for dental disease, tooth loss, and the need for more complex dental treatment.
Related Articles