WaterLase dentistry is a gentler and more precise instrument for performing many dental procedures, such as decay removal, cavity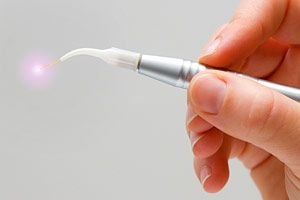 preparation, root canals, tongue- tie, lip tie, frenectomy, gum and bone surgical procedures and many others. The American Academy of Pediatric Dentists has recognized the use of lasers for dental treatments in infants, children and adolescents, as well as people with special needs.

The WaterLase Dental Laser combines water, air and laser energy to perform procedures that are typically performed with a dental drill and scalpel - without the drill, shots and tears.

Many procedures done with the WaterLase Laser do not require anesthesia, which means no shots for some procedures and fewer shots for all procedures. Use of the WaterLase Laser can also reduce trauma and healing time with smaller, more precise incisions and less bleeding. In addition, less anesthesia means there is less chance for the child to experience accidental cheek and lip biting.

WaterLase Laser dentistry is quieter, which means the patient does not become anxious over the shrill sound of the drill. By removing the fear and anxiety of having dental procedures performed, WaterLase Laser dentistry can help foster a healthier life-long mindset about oral care.

Anderson Pediatric Dentistry is proud to offer WaterLase
Laser Dentistry as an option for your child's treatment.
Contact us to discuss your child's treatment options.


What does the phrase "oral health" mean to you? No new cavities at your dental checkup? That's certainly part of it. But it's really so much more than a lack of tooth decay. Good oral health means a mouth that's free of disease - which can range all the way from mild gingivitis (gum inflammation) to oral cancer; a bite that functions well enough for you to eat without pain and get ample nutrition; and a smile that lets you express your happiest emotions with confidence. Simply put, oral health is a crucial component of your overall health and well-being.
It's important to realize that small - and readily treatable - problems in your mouth can become more complicated, painful and expensive if neglected for too long. Some of these oral health conditions may even have ramifications throughout the whole body. Gingivitis, for example, can sometimes progress to periodontitis - a more serious form of gum disease that can loosen teeth and cause them to fall out. Missing teeth can lead to bone loss in the jaw and inadequate nutrition. And numerous studies have shown that people with severe gum disease may be at increased risk for developing cardiovascular disease. The moral of this story: Routine maintenance can pay off big.
What You Can Do to Stay Healthy
One of the most important things you can do to safeguard your oral health is to maintain a daily oral hygiene routine that effectively removes plaque from your teeth. It's the bacteria that thrive in the plaque biofilm that cause so many oral health problems. Effective oral hygiene involves brushing your teeth twice daily with a fluoride toothpaste and flossing at least once per day to remove plaque from between the teeth.
Nutrition and lifestyle choices also play an important role. You don't have any control over hereditary factors that may predispose you to gum disease - but you do have control over how much sugar you eat and when you eat it; how often you exercise; whether you smoke; and how often you visit the dentist.
How Dentistry Can Help
If you only see a dentist when problems arise, you may be missing out on some important benefits! As doctors who specialize in oral health, dentists offer a wide range of preventive services. At your regular exams, for example, you will be checked for any signs of oral cancer, tooth decay, gum disease, and other oral infections; hard-to-reach deposits from your teeth will be cleaned; and you can get answers to any questions you have on topics ranging from oral hygiene issues to the connection between oral health and systemic diseases.
So please don't wait for a serious problem to come up before you make an appointment at the dental office. Having regular checkups could save you lots of time, aggravation, and cost in the long run. It could even save your teeth! Working together, we can take proactive steps toward a healthy future.
Related Articles