WaterLase dentistry is a gentler and more precise instrument for performing many dental procedures, such as decay removal, cavity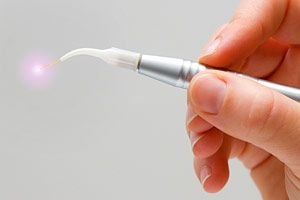 preparation, root canals, tongue- tie, lip tie, frenectomy, gum and bone surgical procedures and many others. The American Academy of Pediatric Dentists has recognized the use of lasers for dental treatments in infants, children and adolescents, as well as people with special needs.

The WaterLase Dental Laser combines water, air and laser energy to perform procedures that are typically performed with a dental drill and scalpel - without the drill, shots and tears.

Many procedures done with the WaterLase Laser do not require anesthesia, which means no shots for some procedures and fewer shots for all procedures. Use of the WaterLase Laser can also reduce trauma and healing time with smaller, more precise incisions and less bleeding. In addition, less anesthesia means there is less chance for the child to experience accidental cheek and lip biting.

WaterLase Laser dentistry is quieter, which means the patient does not become anxious over the shrill sound of the drill. By removing the fear and anxiety of having dental procedures performed, WaterLase Laser dentistry can help foster a healthier life-long mindset about oral care.

Anderson Pediatric Dentistry is proud to offer WaterLase
Laser Dentistry as an option for your child's treatment.
Contact us to discuss your child's treatment options.


The intra-oral camera is a valuable tool dental professionals can use to help you understand your examination, diagnosis and treatment. This small, handheld video camera is about the same size as a dental mirror (or an oversized pen) and comes with a disposable plastic sheath for contamination prevention. It is used to take actual pictures of your teeth with up to 25 times magnification and project them onto a screen for your review. It can also be used to give you a video tour of your entire mouth so that you can see things such as plaque deposits, decay, worn teeth, and broken or missing fillings. Lastly, pertinent images can be printed for your patient file for future reference — or even for you to take home.
A Picture Is Worth a Thousand Words
This adage is proven true many times each day in offices equipped with an intra-oral camera. Prior to the development of this technology, some patients found it challenging to understand problems such as dental decay and periodontal disease. Now, it's possible to display, pause, and zoom in during a video examination of the problem area, so that you can see it for yourself — all in color and crystal clear.
Advantages of an Intra-Oral Camera
An intra-oral camera makes you more of an active partner in your dental treatment, enabling you to see what a dentist sees — an especially important benefit when additional treatments need to be discussed, or when treatment options must be explained — so that you can make informed decisions.
You may be more comfortable asking questions and better able to understand a treatment option or oral hygiene concern when you can actually see it.
Because it gives you the real-world picture of your dental hygiene, the intra-oral camera is ideally suited to show you techniques for improving your oral health and hygiene habits.
With its powerful magnification (much superior to the naked eye), it reveals the early stages of maladies such as gum disease and cavities.
The images can be captured and reexamined later, to show you changes in your oral health and hygiene or how a multi-phase treatment is progressing.
Furthermore, it can provide insurance companies with the proof they require to approve a needed treatment.